Organization Chart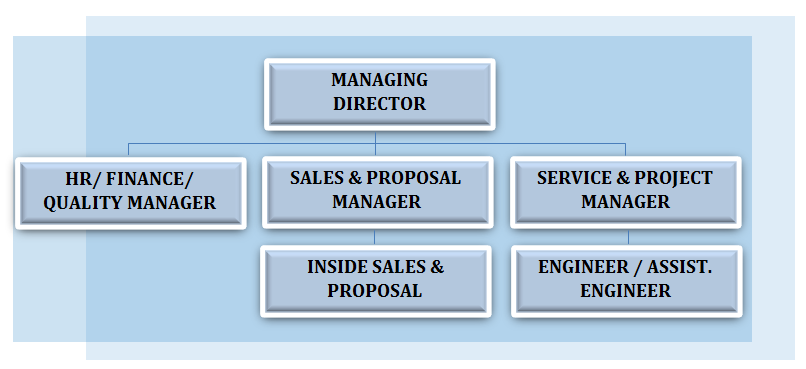 Corporate Information
Company Name Tranquil Solution Sdn Bhd
Business Address No 40A, Jalan Rugbi 13/30, Seksyen 13,
40100 Shah Alam, Selangor Darul Ehsan
Telephone / Fax 03-55243055 /03-55243056
Website www.tranquil-solution.com
Paid Up Capital RM100, 000.00
Authorized Capital RM400, 000.00
Banker Standard Chartered Malaysia Sdn Bhd
Banker Address 40100 Shah Alam, Selangor Darul Ehsan

Vision
To be a leading world class solution provider in Oil & Gas, Petrochemical, Power Plant, and General Industries and aim to be the remarkable Oil & Gas Products and Services provider through the maximization of customersí satisfaction.
Mission
To provide our clients with a world class products and services that is based on a corporate culture driven by customerís focus, impeccable ethics, total commitment to quality, timely job completion, and uncompromising protection to health, safety and the environment.
To provide our employees with adequate rewards, remuneration and training to empower and motivate them to be a world class work force that pushes the boundaries of our core competencies.
To provide our vendors with win-win long term business relationship that is based on the spirit of collaboration, mutual trust, and integrity.
To provide our shareholders with the maximisation of profits and best operating processes To be a responsible and caring corporate citizen that serve the best interest of our community, and actively support our nationís aspiration.